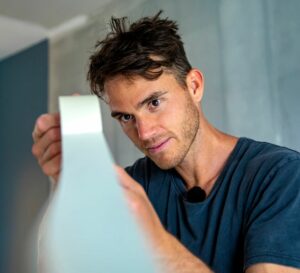 Presentation
Reece Curran
Family & interior design & life style
In 2021, Reece charmed his way into the hearts of the Danes when, together with his wife Caroline, he won the TV program Nybyggerne. During his participation in Nybyggerne, he was particularly noted for his strong craftsmanship and good humor, which is why he is particularly good at taking on tasks with a focus on DIY projects, construction and family/lifestyle.
The couple have since sold the house they won and they are in search of new exciting 'do it yourself' projects, and have therefore mainly used their time to enjoy a break in Australia, where Reece is originally from. Reece was born and raised in Perth, Australia, but as fate would have it, he met Caroline on a backpacking trip in Panama, and he hasn't looked back since. Caroline and him now live in Denmark, where they have a daughter Vera together.
Reece has lived a life full of travelling and adventure, where he has, among other things, renovated and run a bar on a Greek island, called "Lost boys bar". In connection with the couple's many fantastic travels and this lovely island, Reece discovered a new interest and a talent for photography, with which the aesthetics of both his and Caroline's channels are always top notch.
His universe is therefore particularly marked by his passion for creating content, and he is particularly distinguished by his good humour, charm and his "laid back" Australian personality. At the same time, he has his hands full, which is why he is often involved in various projects.
Meet other talented Content Creators