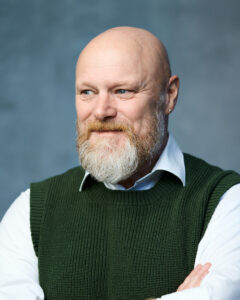 Presentation
Mads Steffensen
Family & life style
Most people have probably seen him on TV programs such as Kender Du Typen, Her er dit liv, Alle Mod 1 and Fællessang - each separately on Danmarks Radio. And every time someone is faced with a dilemma, it is probably his voice that they hear in the background. For many years he hosted the radio program Mads & Monopolet, and today he sits behind the microphone in the podcast Mads and the A-team on the podcast platform Podimo. A program that is about all of us and all that we go through in life.
Mads is a trained journalist, married to Marianne, father of three sons and lives in Copenhagen.
Mads has a strong and loyal following on his social channels. Just like in his programs, you will always be met with a great deal of humor and an embracing openness. As a follower on Instagram, you also get a behind-the-scenes look at Mads' life and career, which we as listeners and viewers are rarely allowed to do in his many programs.
Meet other talented Content Creators